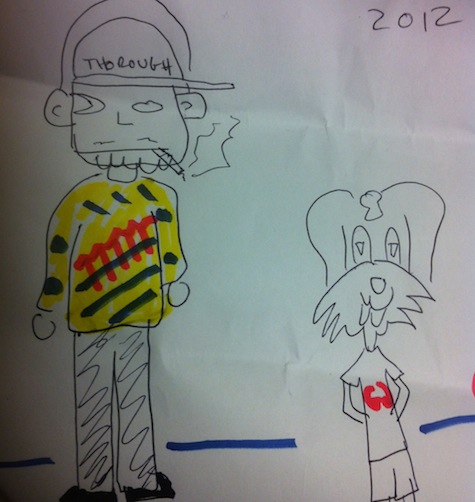 Hey peoples. My year was so good. Hard moments were met with great ones. Made some good music, ate some good sandwiches. I love lists. Ego Trip's book of rap lists is probably my second favorite book of all time. Here's a list of my favorite rap songs of the year. Favorite does not mean best. This is personal taste, and I am not so full of it to assume that my subjective is objective- yeah right, but still these are songs I personally loved. Feel free to comment and email Baje your favorite songs. So here goes, in no particular order:
Kendrick Lamar – Sing About Me. Not gonna lie, I personally like Section 80 more, but as far as narrative rap goes, Kendrick created a beautiful, cohesive piece with GKMC. It is a fantastic record. I remember back in the day, hanging out with my weird high school friends in the projects by LaGuardia high school, cutting class, drinking forties and listening to rap tapes and talking about rap and girls. Not much has changed. I remember cats would be like "yo I love story raps". I usually didn't. They always seemed contrived. This joint isn't. When that gunshot happens in the first verse, I had to stop and take a breath. It was visceral and shit. Amazing song.
Ab-Soul. Book of Soul/Terrorist Threats. One- the main sample is Bobby Mcferrin (his music is prozac to me), which was also used for MF DOOM's "Burdock Root" beat. The song is sad and beautiful with out being overly sentimental. Dude breaks down the tragic loss of singer Alori Joh and his battle with Stevens-Johnson syndrome with restraint and it is dope. I like terrorist threats because Danny Brown is on it. Also, Ab seems like one of those kids you went to high school with that lent you "Behold a Pale Horse" but in a way that didn't make you hate him or think he was a herb.
El-P. $4 Vic/Nothing but You+Me (FTL). El-p sounds really happy on this one. The reprise is so satisfying. It's a beast. Been a fan since I was a young'n. Killed it. His "Top O'the morning morbid Quite a day we're having gorgeous" rhyme scheme was dope.
Action Bronson. Bird On a Wire (ft. Riff Raff). This beat makes me want to surf on a dolphin.
Homeboy Sandman. First of a Living Breed.
Homeboy Sandman: yo, I'm gonna kill it with positivity and energy, and I'm gonna be one of the best rappers ever one day yo.
The World: ok.
Aesop Rock. Racing Stripes/Zero Dark Thirty. I lost a couple people I once cared about this year. There's no making sense of these things sometimes. It fucking hurts. The loss of Camu Tao informed both El-p and Aesop's additions on this list, but they did it in different was. Aesop somehow made a song about silly hair cuts a touching tale of friendship. Word. Honorable mention to "Zero Dark Thirty" because it seemed like Aesop Rock interpolated "She Will' by Lil Wayne and made a rapping ass rapping track.
Trae Tha Truth – I'm From Texas ft. Z-Ro, Kirko Bangz, Bun B, Slim Thug & Paul Wall. I need some Texas music in my life all the time. This makes perfect sense because I'm from Texas. No I'm not. Weird. This song is jamming and is a great mid piece on a Texas mix I am making for myself.
Starlito. Chill feat. Don Trip. Starlito made a lot of music this year, most of it good. He just keeps on getting better and raspier. Don't Trip kills too. Litoooooo!
Nicki Minaj. Stupid Hoe. This beat is crazy and good. The song is absurd and weird and Nicki can rap really well.
Future. Parachute feat. R.Kelly clean version. The edits make this version bang a little better. "Pluto" was a monster record. This song makes me want to do Bobby Brown pushups. The drums are smart and slap tough. Word.
Danny Brown. Grown Up. Danny Brown raps wistful on a dope Party Supplies (who made my favorite song this year "Guy Friends") beat. The video is awesome. Rappers as kids are always awesome. Remember that Biggie video directed by Spike Jonze where all the Bad Boy cats were played by kids? It was awesome. Remember that video of Biggie as a young guy rapping in front of a bodega? That video made me and Tone Tank cry once. Rest the dead.
Kanye West et al. Morning. You got this crazy beautiful chorus, a bunch of talented, thematically disparate rappers rapping, and a knocker of a beat. Can't really tell who made the beat, there's like 9 producers listed.
Earl Sweatshirt. Chum. Earl was a young angry rapper with a lot of potential and talent. Now he seems to be a introspective young angry rapper with a lot of potential talent.