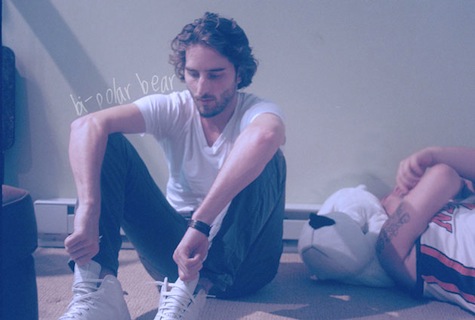 ______________________________________________________________________
"When Ledge Is Home is a 10-track collection of brilliance."
-MXDWN.COM
"Groups like this are hip hop's saving grace."
-THE DELI MAGAZINE
"The new titans of the midwest hip-hop underground."
-AMIESTREET.COM
"Extremely talented, both on the microphone and the production."
- MOG.COM
"A vocal style that suggests Slug (of Atmosphere) on an extra pack a day."
- THE ONION
"The slept on album of the year… I had 'Today I Found Happy' on repeat for about 2 weeks straight, nothing else."
- WEVEGOTTHEJAZZ.COM
"Unique, dope production."
- RAPREVIEWS.COM
"Journaling about what life's like, just to find a reason to like life…"
Gabe Karter is "Ug Orwell", or "Bum Uggy". Andy Kaufman (yes, his parents did it on purpose) is "August". Gabe and Andy are friends… Ug and August are Bi-Polar Bear.
The story of HOW they met isn't so important (freshmen at the University of Arizona… one super fat, one super skinny), it's more of a "why" thing. August had been bangin' on the drums (electronically) since 9th grade, while Ug was the kid that was forced to freestyle anytime drinking was involved. Perhaps they knew then that they should sit down and discuss this whole hip hop thing, but they were too busy banging bitches (see: playing video games).
Fast forward three years. Fast forward four relationships, five cities, and two overwhelmingly different paths towards a hazy destination. See Ugly graduating in Boston (that's not in Arizona)… see August fleeing from Hurricane Katrina and spending the finale of his undergraduate career in Connecticut (that's not in Arizona either. No one stayed in Arizona folks… but the Bear loves their basketball team). See two grown children with fleeting passions, reunited over an AIM conversation in which Orwell informed Auggie that he had recorded an entire album, half of which included songs featuring the latter's production. It had been a minute since August thought about making music, and this was refreshing.
Fast forward three more years. Here's to hoping your fast forward button works. A lot has happened that you don't really need to know about. A year was spent in Madison, Wisconsin. An album that the duo refuses to promote (or mention by name, for that matter) was made. August and Ug, fully committed at this point to realizing their potential, now called Brooklyn home. Bi-Polar Bear was born.
Thanks to a healthy gambling problem (gots to pay the bills ya'll… and the dude who masters the songs) and an unhealthy amount of aggressive depression, Bi-Polar Bear greeted the world with Today I Found Happy. Some called this 11 tracks of suicide music… some called it rap they could dance to… some called it garbage. Ug and August called it an achievement. Ug had learned a thing or two about making beats, and August was branching out. TIFH showcased completely original, homemade production, while Orwell distinguished himself as a lyricist without borders. Tracks like "F**k Her", "Nights Like This" and "Love Begins to Die" resonated with a growing group of supporters who connected with the raw honesty of the content. Despite the critical success of the group's freshman (okay, okay… sophomore) effort, the kids knew that they had more to give.
And that's where we are today. "Mid-twenties" became "late-twenties" became "damn-near-thirty", and Bi-Polar Bear is finally ready to release a fully polished piece of work. When Ledge Is Home is a story of redemption. It's also about the moments when redemption isn't enough. Ug Orwell still handles most of the emceeing responsibilities, but August just won't stop singing now. August still calls himself the producer, but Ug just won't stop making beats. Oh, and they made some new friends. Boasting production from Blue Sky Black Death and a killer verse from Junk Science's Baje One, "When Ledge Is Home" is the group's first on the Brooklyn-based indie label Modern Shark. The 10 tracks run the gamut from poppy to vile, uncovering more about the artists than this biography could ever disclose. It was a harrowing journey for all those involved, but the outcome is already starting to generate some buzz (industry term). Due for release on September 18th, Ug and August are proud to promote something they truly believe in. They thought they might go their whole lives without being able to say that truthfully, so let's hope they're not alone.