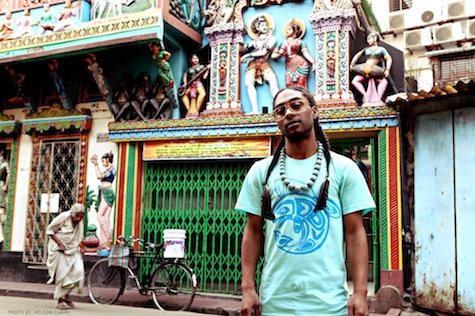 Currently the best kept secret in rap music, Cavalier navigates known hubs in Brooklyn like a mystic insurgent, though he is a native New Yorker. His following grows by the coincidence of his music and his influence as a teacher, artist, shaman or chief. We convene to hear only a few storytellers in our lives, those who hold captive the psychic will of a buzzing throng. As his lyrics cascade, to paraphrase underground banger "Straight Cheeze", Cav dodges the returned adulation, limiting his custom gear and sought-after mixtapes to controlled bursts of high art. To his credit, ancestors express themselves forcefully in stacked symbolic pendants draped down his garments, feathers and beads accord with lenses and charms.
Particular attention to this Afro-Caribbean escovitch emboldens his beats with reggae pulses and hip-hop thumps. On "The Breaking", a powerhouse debut of soulful introspective diary entries, Cav alternately explored the triumphant and the mundane, the joyful and the absurd. Since its promotional release in 2008, accompanied by the "Cav Wins" Weekly Freestyle mixtape, the Chief has appeared at East Village Radio, Southpaw, WBAI Rise Up Radio, and the Knitting Factory among his peers in an avant garde sect of defiantly unique musicians and artistic directors, like Daru Jones of Idle Warship/Slum Village repute. Tokyo's Japan Music Week and YUME Fest also invited Cavalier as a special guest headliner during his 2010 tour abroad. His liaisons with Budamunky and Comachi have already led to mixtape appearances on the upcoming record, Japan State of Mind Vol IV.
As part of his mixtape lore, The Lost Weeks is a tribute to the untapped genres that influence hip-hop. It features a series of videos recorded with the title tracks, and has already made an impact on blogs and web channels. Cavalier's masterful wordplay and vocal delivery is unrivaled on The Lost Weeks, and his contemporaries defer to his language pioneering. Junk Science vocalist Baje One, frequent collaborator with Cav, offers that "The Breaking" is tailor-made for repeat listens as songs like "Ink" surround a presumed reality with limber metaphors. Only by these sincere testimonials from artists and fans can Cavalier be traced, as they leave a trail of imprints too significant to be ignored. And as the concept of a "limited edition" hurries toward extinction, his choice cuts are a reminder of the value found in rarity.
DOWNLOADS
download "MC Killa (prod. Snafu)"